Expecting? Explore Our Pregnancy Ultrasound Options
Welcome to Doctors Clinic Diagnostic Center: Your Trusted Partner in Pregnancy Care
Are you expecting? Congratulations on this wonderful journey! At Doctors Clinic Diagnostic Center, we understand that your pregnancy is a special time, filled with excitement and anticipation. 
Ensuring the health and well-being of both you and your baby is our top priority. That's why we offer comprehensive ultrasound services and expert gynecologist consultations tailored to your needs.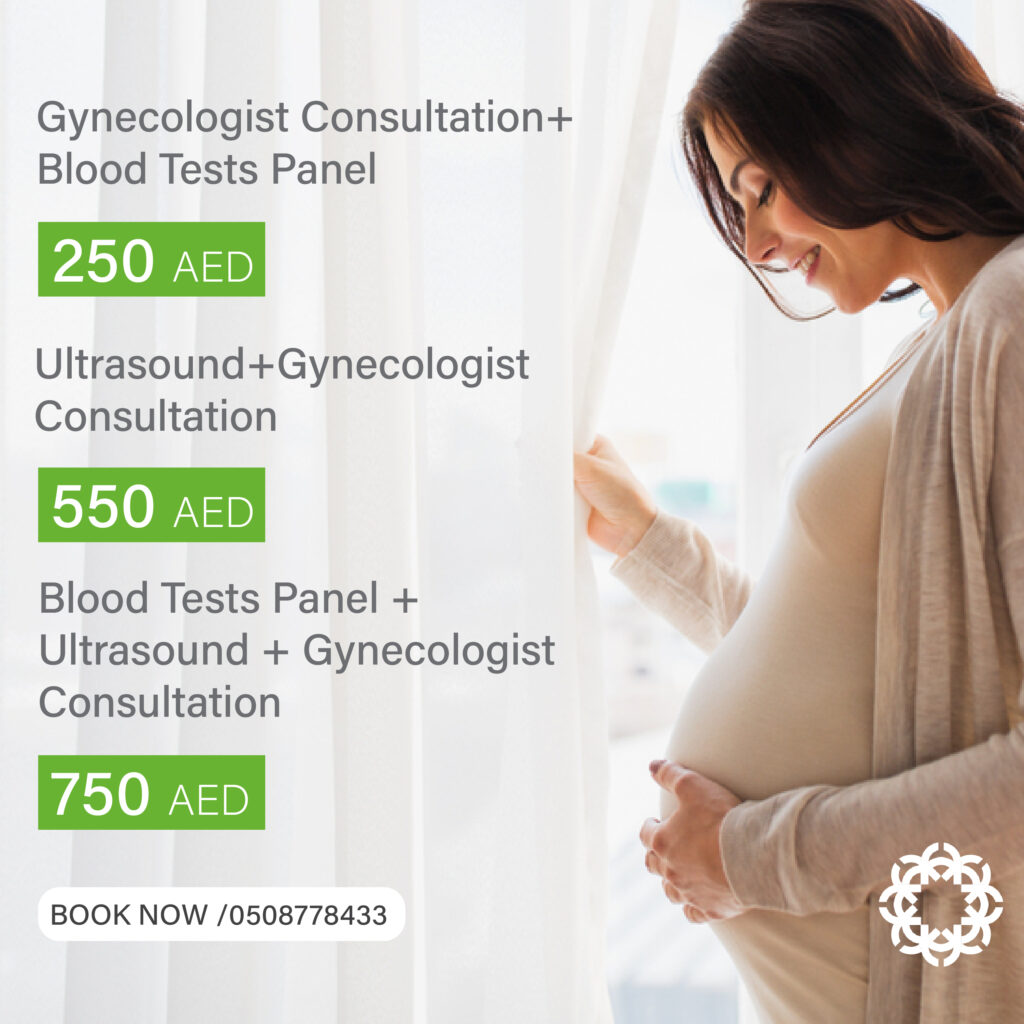 Advantages of Regular Ultrasound Scans and Gynecologist Check-ups
Early Detection of Issues:
Regular scans and consultations enable early detection of any potential complications, allowing for timely intervention and appropriate medical care.

Peace of Mind:
Seeing your baby's growth and hearing their heartbeat can provide immense reassurance and peace of mind, enhancing your overall pregnancy experience.

Personalized Care:
Our expert gynecologists tailor their advice and recommendations based on your unique
needs, ensuring you receive personalized care that supports a healthy pregnancy.
Choose the Right Package for Your Pregnancy Care
Offer 1:

Pregnancy Blood Tests Panel

+ Gynecologist Consultation for 250 AED
Offer 2:

Pregnancy Ultrasound

+ Gynecologist Consultation for 550 AED.

Receive a detailed

ultrasound scan and expert consultation with our gynecologist to monitor your baby's

development closely.
Complete Package: Pregnancy Ultrasound + Blood Tests Panel + Gynecologist Consultation for 750 AED Experience complete peace of mind with this comprehensive package, offering both
ultrasound scans and a thorough blood tests panel, along with expert gynecologist consultation.
Your Trusted Pregnancy Partner in Dubai
Doctors Clinic Diagnostic Center, located in the heart of Dubai Healthcare City, is your trusted partner in ensuring a healthy and happy pregnancy journey. With our expert medical professionals, state-of-the-art facilities, and personalized care, you can confidently navigate this
transformative time in your life.
Book Your Appointment Today! Take the first step towards a healthy pregnancy by booking your appointment with us. Experience the difference of expert care and advanced technology at Doctors Clinic Diagnostic Center. Your journey to a healthy pregnancy starts here. 
Contact us today to schedule your ultrasound and gynecologist consultation.
Take Charge of Your Health & Confidence: Celebrate your pregnancy journey with Doctors Clinic Diagnostic Center in Dubai Healthcare
City. Expert ultrasound services and gynecologist consultations tailored to your needs. Book
now for comprehensive pregnancy care packages starting at 250 AED. Your trusted partner for a
healthy pregnancy.