Pregnancy Follow-up Package
Welcome to DCDC: Your Trusted Partner in Pregnancy Care
Congratulations on this beautiful journey to motherhood! At DCDC, your well-being and the health of your little one are our top priorities. 
Our Pregnancy Follow Up Package, tailored to your needs, ensures you receive comprehensive care and support during this special time. Located in the heart of Dubai Healthcare City, DCDC is your leading diagnostic medical center, dedicated to providing expert healthcare services.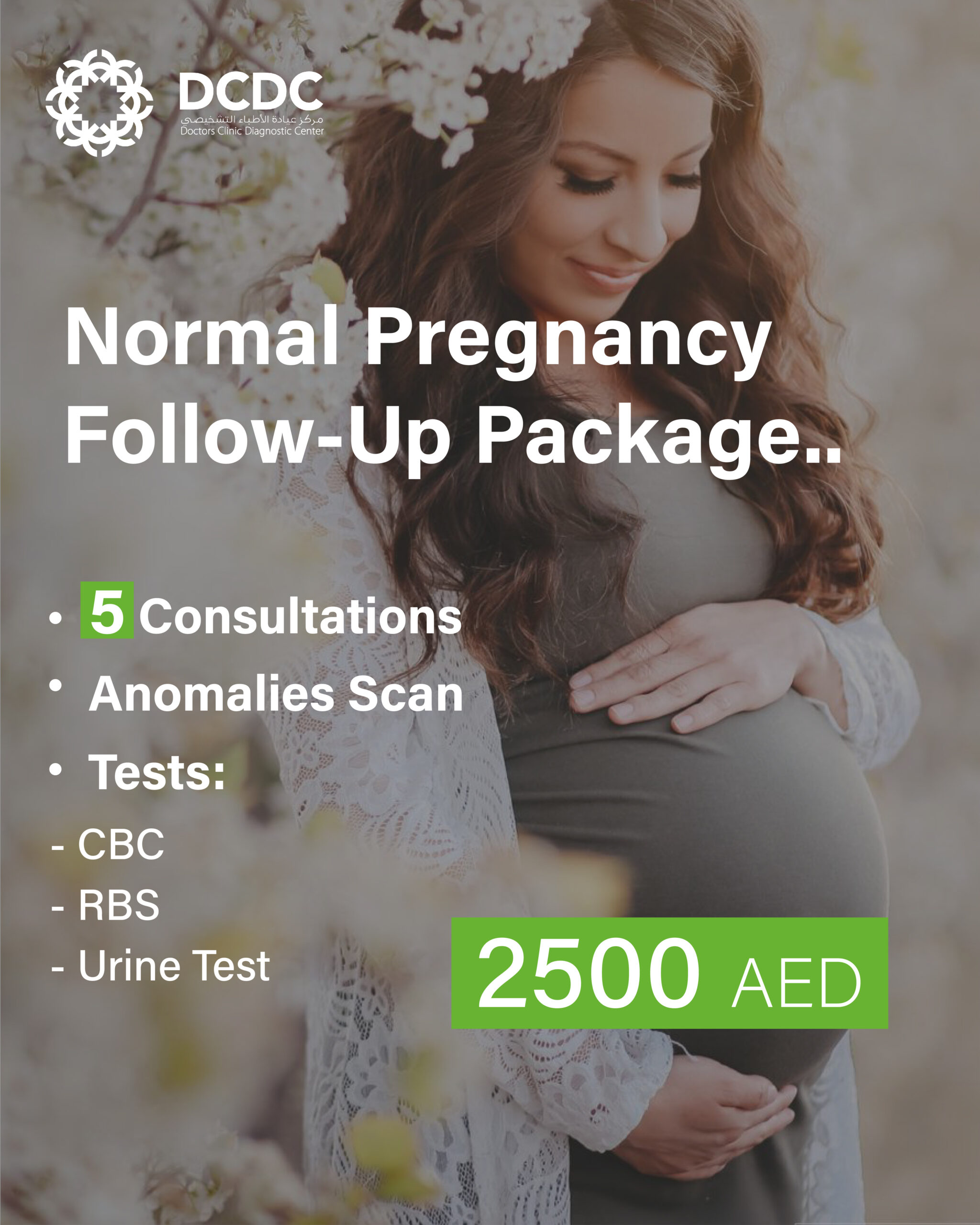 Our Pregnancy Follow Up Package Includes:
5 Personalized Consultations:

Guided by our experienced obstetricians, we offer five in-depth consultations to monitor your health and answer any questions you may have.

Anomalies Scan:

Experience peace of mind with our advanced anomalies scan, ensuring your baby's growth and development are on track.
CBC (Complete Blood Count):

A comprehensive blood test to assess your overall health and detect any potential issues.

RBS (Random Blood Sugar):

Monitoring blood sugar levels is crucial for a healthy pregnancy.

Urine Test:

A routine urine analysis to identify any urinary tract infections or other concerns.
Why Choose DCDC for Your Pregnancy Care?
Expert Guidance:

Our skilled obstetricians provide personalized care, ensuring you feel supported and informed throughout your pregnancy journey.

Cutting-edge Technology:

DCDC is equipped with state-of-the-art facilities, guaranteeing accurate diagnostics and top-notch healthcare services.

Convenient Location:

Located in Dubai Healthcare City, we offer easy access and a comfortable environment for all your appointments.
Book Your Pregnancy Follow Up Package Today!

Take the first step towards a healthy pregnancy and a happy, thriving baby. Contact us at [Your Contact Number] or visit our website to schedule your appointments. Your well-being is our priority, and we are here to accompany you every step of the way.

DCDC is more than a medical center; we are your partners in nurturing a new life. Trust us to make your pregnancy journey a memorable and worry-free experience.