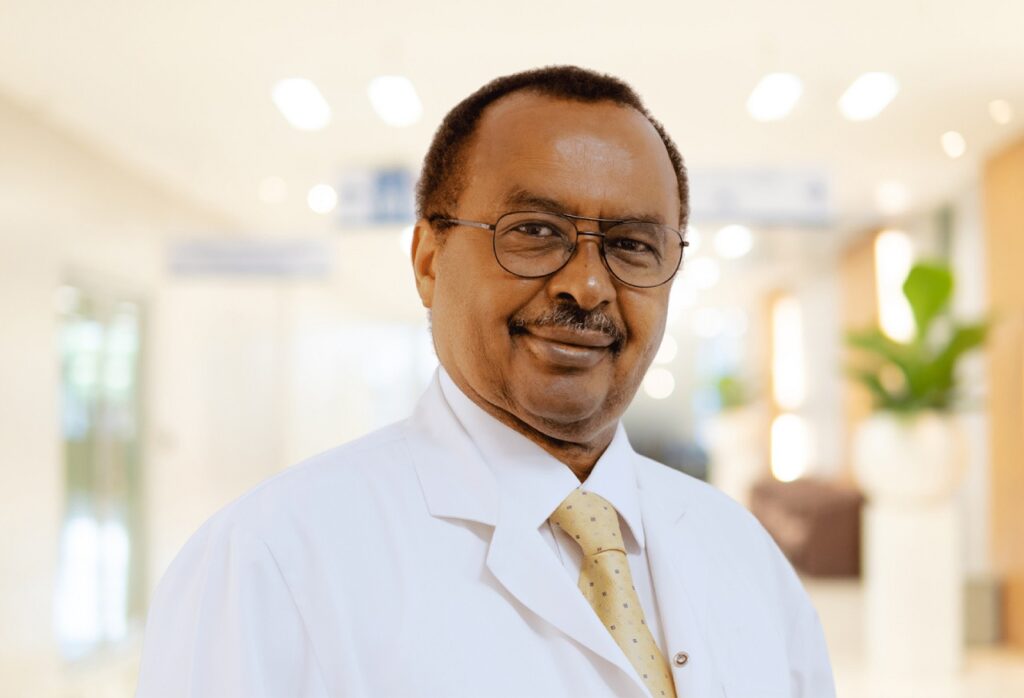 Consultant in Endocrinology an & Head of the Endocrinology and Diabetes Clinic
Welcome to the webpage of Professor Dr. Mohamed Ali Eltom, Consultant in Endocrinology and Head of the Endocrinology and Diabetes Clinic. Dr. Eltom specializes in a Swedish-Centered approach to the management of Diabetes, Thyroid, and metabolic disorders. He believes in personalized treatment plans tailored to meet the individual needs of his patients, resulting in long-term behavioral changes.
Dr. Eltom experience and expertise
Dr. Eltom is fluent in English, Arabic, and Swedish, and his professional background spans over 38 years of clinical experience. He holds a Medical Degree (MBBS) from the University of Khartoum in Sudan and a PhD in Endocrinology from Sweden. He has also received certified training in Endocrinology from Uppsala University in Sweden and is board certified in Internal Medicine in Sweden as well as Endocrinology in Sudan. In addition, Dr. Eltom is a Professor of Medicine at Ahfad University in Sudan.
Dr. Eltom specializes in screening, diagnosis, and the Swedish-Centered holistic approach in the treatment of various conditions including:
Diabetes Melitus (Type 1, Type 2, and pregnancy complicated by Diabetes)

Thyroid Disorders (Hyperthyroidism, Hypothyroidism, Parathyroid gland disorders, thyroid abnormalities during pregnancy, Thyroid cancer, and other Thyroid disorders)

Metabolic Syndrome Disorders (Hypertension, Cholesterol, Dyslipidemia, Obesity, Pre-Diabetes, Vitamin and Mineral deficiencies)

Obesity and overweight treatment with medications or bariatric surgeries

Other conditions: Pituitary Disorders and Tumors, Polycystic Ovary Syndrome, Hirsutism, low testosterone, and libido evaluation and treatment.
Dr. Eltom has made significant contributions to the field of endocrinology and public health, including being elected Chairman of the International Diabetes Federation, Middle East and North Africa Region. He is also the President of the Sudan Diabetes Federation and the founder of both the Health Diplomacy Association and Health Ambassadors Organization in Sudan. Previously, he served as the Ambassador of Sudan in Norway, Denmark, Finland, and Iceland, residing in Oslo.
To receive exceptional care from Dr. Eltom, you can schedule an appointment today. Your health is our priority. Please contact us via phone, social media, or email for appointment bookings.