Full Body MRI Scan Package
Welcome to DCDC: Your Trusted Partner in Radiology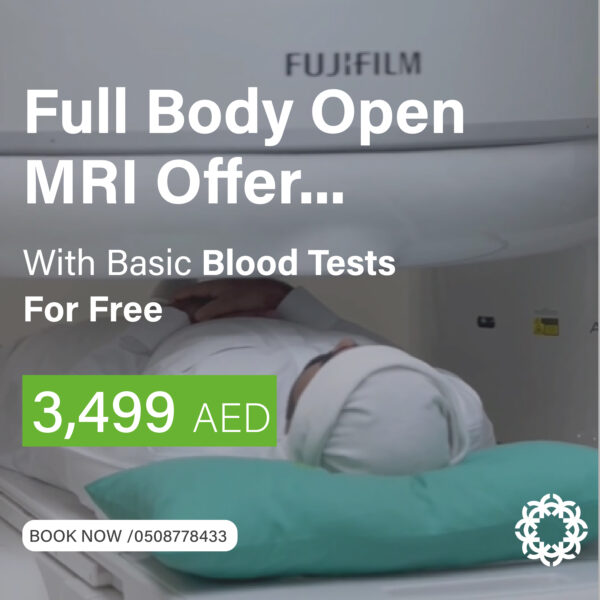 Why a Full Body MRI Scan?
A Full Body MRI scan is a comprehensive way to assess your overall health. It can detect a wide range of conditions, including:
Early cancer detection
Heart and vascular health
Neurological conditions
Joint and bone health
Abdominal and pelvic issues
During your Full Body MRI scan at DCDC, you can expect a safe and hassle-free experience.  Here is what our patients think of us:
Trusted, expert radiologists and radiographers
Convenient location in Dubai Healthcare City
Quick and accurate results
Comfortable and stress-free MRI experience
Why Choose DCDC for Your Full Body MRI Scan?
Open MRI from Fuji Japan: Our Open MRI is designed to make your experience safe and comfortable. The advantages of our Open MRI include: 

Safe (Radiation-Free): Unlike CT scans, which expose you to significant radiation, our Open MRI is completely radiation-free, making it ideal for check-ups. You can even have multiple MRI scans in a day without any side effects.
Quick (20-30 Minutes): Thanks to advanced technology, our Open MRI scan can be completed in just 20-30 minutes, a significant improvement over older MRI models that required up to 2 hours for a full-body scan. It's also faster than detailed ultrasound for abdominal and pelvic imaging.
Book Your Full Body MRI Scan Today!

Take the first step towards better health. Contact Us or visit our website to schedule your appointments. Your well-being is our priority, and we are here to accompany you every step of the way.